by Brian Woodruffe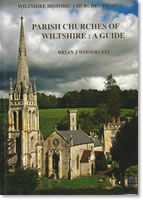 A detailed description of Wiltshire churches can be found in "Parish Churches of Wiltshire: A Guide" by Brian Woodruffe (Wiltshire Historic Churches Trust 2010).
This is the first comprehensive guide to churches in Wiltshire. It will encourage many people to explore not only the nationally significant churches but also the smaller and less obvious places of worship that are tucked away and easily by-passed.
It consists of 206 pages with 12 chapters, each centred on a different region of Wiltshire. Over 300 churches are covered. It is illustrated with more than 700 colour photographs and drawings. The Foreword is by Lord Brooke of Sutton Mandeville, President of the Friends of Wiltshire Churches.



Orders
This book costs £15, plus £3 postage and packaging. All profits will go to the Wiltshire Historic Churches Trust.
We are committed to protecting your privacy and will protect your personal information in accordance with the WHCT Privacy Statement 2020
PLEASE CLICK THE BUY NOW button below
Click Pay by Debit or Credit Card
Your order will be automatically added to the Basket
Complete the order form and card payment for your order