The Friends Annual Report
Each year the Friends of Wiltshire Churches publishes a compact report of the activities of the Trust and the Friends. These glossy booklets record the Friends Committee, New Members, Finances, Future Events, Trust Grants to Wiltshire Churches, the annual Ride & Stride and  a comprehensive overview of the lectures, church tours and social events in a particular year. The booklets include high-grade pictures of beautiful churches and the varied activities of the Friends.
Please click the link immediately below to read The Friends Annual Report for 2020. Friends Church tours were cancelled in 2020 owing to the Covid-19 pandemic and associated restrictions. The 2020 Report therefore includes a series of articles and pictures of church restoration building projects.
Please click the links below to read past Friends of Wiltshire Churches Annual Reports. Enjoy their overview of the contribution made by the Trust and the Friends and the vibrant annual programmes that are organised for the Friends.
Friends Annual Lecture 2019
The Friends Annual Lecture 2019 by Julian Orbach is also available for you to read.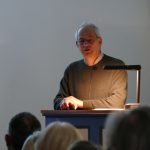 Julian Orbach (pictured right) is an author and lecturer in architectural history. He was architectural adviser to the Victorian Society in 1975-7 and wrote the Blue Guide to Victorian Buildings in Britain, published in 1987. He worked on the listing of historic buildings in England until he moved to Wales in 1987 where he was similarly employed by Cadw. While in Wales he co-wrote three Welsh titles in The Buildings of Wales series, then in 2009 moved to Somerset to revise Pevsner's volume on South and West Somerset in the Buildings of England series. He now lives in Bradford-on Avon, having moved there in June 2014 to begin revising the Wiltshire volume of the Buildings of England series.
Please click the link below to read notes from the Friends Annual Lecture 2019. Sir Nikolaus Pevsner's picture is shown at the beginning of the note.