The Wiltshire Historic Churches Trust supports churches in Wiltshire through grants to enable essential repairs and community enhancements
The Trust made grants to 34 churches in 2015, 30 churches in 2016 and 37 churches in 2017 . Awards are listed on separate pages
Examples of repair and community enhancement projects that have been supported by the Trust are shown below.
The restoration of the spire and tower of St Bartholomew's Church in Corsham. This requirement for major project was identified in the Quinquennial Inspection report in 2005 and completed in 2012. The work included the repointing of the spire and its windows, the restoration of tower parapets and pinacles and the replacement of the bell tower flooring and access. Fundraising ran over a six year period and included two grants from the Trust.
The re-roofing of St Andrew's Church in Castle Combe was completed in 2016. This repair work was the first and critical part of an ongoing large-scale project to restore the church and add new community facilities for the comfort of the congregation and visitors. The Trust contributed a £2,500 grant and Trustees recommended a NCT Partnership Grant of a further £2,500. The Knight's Chapel, with the tomb of the Norman crusader, Sir Walter de Dunstanville, will also be conserved within this complex project which started in 2017. The Trust has granted £2,500 towards the restoration of the medieveal screen in the Knight's Chapel.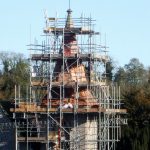 Repairs to the spire of St Andrew's Church in Newton Toney were completed in 2017.
The cedar shingles had deteriorated on one side and the local Jackdaw population had made a number of holes. This spire had last been covered in 1963 at a cost of £485. In 2017 the re-covering of the spire with cedar shingles, plus work on the vestry and chancel roofs, cost £15,850.  The majority of church  funding came from the Newton Toney Flower Festivals over six years and other events such as the Newton Toney fete. The Wiltshire Historic Churches Trust granted £2,000 in June 2017. A Faculty was granted for the works in September 2017 and the works commenced on 1 October 2017 and were completed in December 2017.
The provision toilets in Christ Church in Shaw and Holy Trinity in Dilton Marsh
Repairs to the vestry walls and floors in St John's Church, West Ashton