Saturday 11th September 2021
From the outset of planning, it was clear that Ride and Stride 2021 would have to be organised differently in recognition of the impact of the second year of Covid pandemic restrictions and other competing challenges. Regular communication and administration of the event was largely conducted online. Videos and social media were also used for the first time to promote and start the event.
Before the event, leading actor Simon Russell Beale spoke movingly on the Trust YouTube channel about his interest in Wiltshire and Ride and Stride and read Andrew Motion's poem 'For Now.' The first verse is below.
In the mind's eye, in the memory-store, for now
The church sets sail but stays where it was built,
It's anchor hooked into the parish-heart……
The Lord Lieutenant, Mrs Sarah Troughton, recorded a Virtual Start video to share her inspiring message and appreciation ubiquitously with every contributor across the length and breadth of Wiltshire on 11th September. This video was released before the day to allow for onward dissemination and to ensure that early risers did not miss out. The video was viewed at least 600 times.   
Weather conditions on the Ride and Stride day were just right for cycling and walking. Congratulations and thanks to some 230 Riders and Striders from 90 parishes who took part. Thanks also to the reception teams at over 160 churches who stood by to welcome Riders and Striders and offer them wonderful hospitality. Many stories will be told, including one novel approach that stands out – a Strider who walked 1,000 miles across Wiltshire in the year up to and including Ride and Stride day, including a dogleg to Cumbria. The (hen) mascot, Barbu d'Uccle Bantam, of the St Mary's & St John's, Donhead St Mary with Charlton team has added a new dimension to Ride and Stride too. The professionalism of some riders stood out, with web-generated route maps submitted as proof of their journey and visits. It is wonderful to know that so many participants enjoyed the day.
This year, the Wiltshire Ride and Stride fundraising effort raised a total of £47.5k for Wiltshire churches and chapels. Of this, £40,921 has been split evenly between contributing parishes and WHCT grants to help all Wiltshire churches and chapels with significant fabric and community projects.
Many congratulations to St Andrew's, Wootton Rivers who have been awarded the Brooke Cup and to St James, Bratton as runner up. St Michael's, Tidcome are also warmly congratulated for winning the Junior Group Cup, with St John the Baptist, Marlborough as runner up. The full list of prizes and high achievers is below. Lord Brooke generosity contributed to the prizes and particularly wished to encourage young Riders and Striders. Each young contributor received a small souvenir medallion.
The Brooke Junior Cup was presented by the Lord Lieutenant, Mrs Sarah Troughton, to Miss Kitty Jellicoe (aged 7), the leading young fundraiser, during a service in St Michael's Church, Tidcombe on Sunday 6th February 2022. The Brooke Cup was presented by the Chairman of Trustees, Mark Everall, to Mr Robert Mitchenall during a service in St Andrew's Church, Wootton Rivers on Sunday 16th January 2022.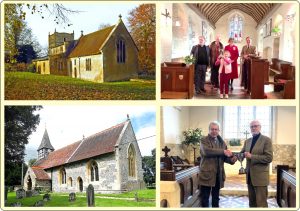 Pictures:
St Michael's Church, Tidcombe
Lord Lieutenant, Mrs Sarah Troughton with Kitty Jellicoe (aged 7, holding the Brooke Junior Cup) and Left to Right: Revd Michael McHugh (Rector of the Savanake Team), Mark Everall (Chair of WHCT Trustees) and Andrew Makower (leading Wiltshire Ride and Stride fundraiser) in St Michael's Church, Tidcombe
St Andrew's Church, Wootton Rivers
Mark Everall (Chair of WHCT Trustees) and Robert Mitchenall in St Andrew's Church, Wootton Rivers.
Everyone involved in the success of Ride and Stride 2021 has made a valuable contribution to the church in Wiltshire, their own church and to the Trust as it strives to maintain its grant support for critical repair and modernisation projects.  A big thank you to all contributors and their supporters. 
Best achievements
The attached spreadsheet lists the best achievements for Ride and Stride 2021.
Please note:
The 'Amount Raised' listed reflects the amount raised by the Participant from which a half-share will be returned to the Parish;
Reflecting the importance of being able to claim Gift Aid from HMRC to the Trust, the ordering of achievements is based on on the gross totals raised by individuals including (anticipated) Gift Aid;
The ordering for the Brooke Cup and Junior Cup prizes are based on a score that is the gross totals raised by the Parish multiplied by the number of Participants from each Parish.