St Andrew's Church in Castle Combe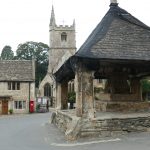 St Andrew is a Grade I listed building. Part of the chancel is 13th-century while most of the rest of the building is from the 15th, reflecting the prosperity of the local wool and cloth industry. The tower was begun in 1434 and completed in 1576. In 1850–51 nearly all of the building, except the tower, was taken down and reconstructed to almost the same plan.
In recent years, the Churchwarden and PCC of St Andrew's have been engaged in an intensive and comprehensive programme of projects to preserve the church fabric and its significant heritage. They have also taken the initiative to re-order and build new facilities to make the church fit for use by future generations. The Trust has supported this impressive initiative with grants for the repair of the church roof and for the restoration of the historic screen next to the knight's tomb.
Historic Screen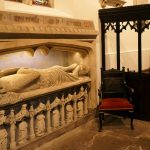 The St Andrew's Church 'Make History' project was completed in August 2018. The Trust made a grant to fund the restoration of the carved , medieval oak screen adjacent to the knight's tomb (Sir Walter de Dunstanville, d. 1270).
Side Chapel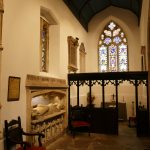 The restoration of this wooden screen by skilled craftsmen has returned it to its original design. This has opened up the oldest area of the church to create a small side chapel as a place for worship and quiet contemplation. This area had previously housed the vestry, behind a locked door, with plywood boarding and security spikes over the historic screen. The re-opening has revealed some of the Scrope family memorials and the details of a bequest 'to pay the teaching of ten poor children to read the Scriptures.' The magnificent Scrope stained glass window can also be appreciated in all its glory.
New Facilities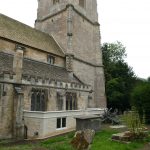 This significant work has been linked with the relocation of the vestry with a new kitchen and toilet into a purpose-built side annex of the church.
Dedication Service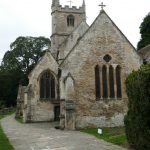 The Venerable Christine Froude, Archdeacon of Malmesbury,  dedicated the new chapel and facilities in a 'Make History' Celebration and Dedication service on 31st August.