Cards
We are offering the Friends of Wiltshire Churches a choice of cards showing images from two of our wonderful churches. Two designs are on offer.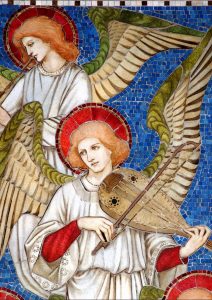 Mosaic of Angels playing instruments from St John, Warminster.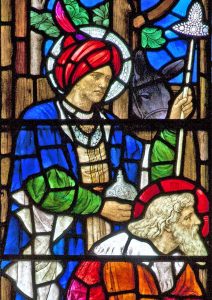 Stained glass of Kings from St Mary the Virgin, Upavon.
The cards are available with or without a greeting (With best wishes for Christmas and the New Year) They are priced at 50p each and are only available in packs of 10 (ie £5 per pack), with Postage and packing: £3 per 100 cards (or less).
Two of our Trustees have written these comprehensive books on churches in Wiltshire and London that are reviewed below and which are offered for sale.
Parish Churches of Wiltshire: A Guide
by Brian Woodruffe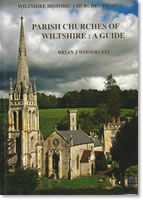 A detailed description of Wiltshire churches can be found in "Parish Churches of Wiltshire: A Guide" by Brian Woodruffe (Wiltshire Historic Churches Trust 2010).
This is the first comprehensive guide to churches in Wiltshire. It will encourage many people to explore not only the nationally significant churches but also the smaller and less obvious places of worship that are tucked away and easily by-passed.
It consists of 206 pages with 12 chapters, each centred on a different region of Wiltshire. Over 300 churches are covered. It is illustrated with more than 700 colour photographs and drawings. The Foreword is by Lord Brooke of Sutton Mandeville, President of the Friends of Wiltshire Churches.
Parish Churches of London: A Guide
by Michael Hodges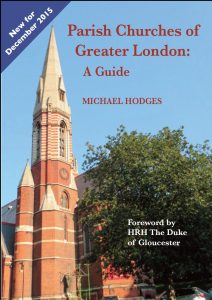 Published in December 2015, this book is the first comprehensive guide to the Anglican and catholic churches (outside the well-covered City of London) of Greater London.
It will encourage people to explore not only the better known churches, for instance of Kensington & Chelsea and Westminster, but also those lesser known gems of Camden, Croydon, Hackney, Tower Hamlets, etc.
The book covers each London borough in alphabetical order, with a brief introduction to its history, followed by a chronological gazetteer of first Anglican and then Catholic churches from the Middle Ages to the 20th century. It includes details on church architects, architecture, furnishings, monuments, stained glass, etc for over 420 churches.
Michael Hodges studied at Eton College and Balliol College, Oxford, before spending forty years as a banker focusing on the Middle East. He is a Fellow of the Society of Antiquaries, a Deputy Lieutenant of Wiltshire and a trustee of the Wiltshire Historic Churches Trust.
Illustrated with more than 1340 colour photographs. Foreword by HRH The Duke of Gloucester KG, GCVO, Patron of The Heritage of London Trust.